August 22 1970

New lap record: Brian Nelson (1.6 Crossle FVA 18F)  97.49mph

July 24 1971

Kirkistown hosts International Formua 3 race, backed by GKN as part of Ulster '71 celebrations. Winner was Colin Vandervell (Brabham BT35).  Among the entry was future World Champion, James Hunt, who crashed on Lap 1 !

New lap record: Tommy Reid (1.6 Brabham BT30 and John Watson (1.6 Brabham BT30) 99.25mph

April 22 1972

New lap record: Brian Nelson (2.0 Crossle Hart 22F) 101.07mph

July 29 1972

New lap record: John Watson (2.0 Brabham Hart BT36) 104.53mph

1978 New circuit layout.

This involved realignment of Colonial One plus the addition of a permanent chicane between Fishermans and the Hairpin.  Although the lap length was slightly shortened, the changes had the effect of lowering the lap speeds considerably

March 22 1979

New lap record: Gary Gibson (1.6 Chevron B42) 97.57mph

June 26 1982

New lap record: Trevor Templeton (1.6 Ralt RT4) 98.28mph

May 30 1987

New lap record :Richard Peacock (3.0 Tyrrell 011 DFV)  99.37mph

August 20 1988

New lap record: Geoff Farmer (3.0 Lola T87/50 DFV) 101.17mph

New Chicane layout

August 22 1997

New lap record:  Tommy Reid 3.0 (Lola T87/50DFV) 101.76mph

September 27 2003

New lap record: Noel McIntyre (3.5 Reynard DFR) 105.81mph

2004

New Clubhouse, comprising bar and restaurant along with showers, toilets and changing rooms opened

April 27 2008

New lap record Dan Daly (2.6 Reynard Ilmor) 105.832mph

2011

Paddock facilities improved with the construction of a garage block (6 double garages) along with new Scrutiny Bay, Marshals Room and Paddock Toilet block.

October 6 2012

New lap record: Philip Shields (4.0 Dallara GP2) 106.507mph

 

August 31 2013

New lap record: Philip Shields (4.0Dallara GP2) 107.184mph

 

2020

New pit wall to replace the original Armco barrier.

 
The Five Hundred Motor Racing Club of Ireland took its name from the 500cc single seater racing cars that were popular at the time. During the 1950s these Formula 3 machines provided 'basic training' for many world-class drivers , including Stirling (now Sir Stirling) Moss, and while he never raced at Kirkistown, many of his contemporaries did. These included Le Mans winner Ivor Bueb who won the 500cc Championship of Ireland at Kirkistown in 1957, just two weeks after his victory in the French classic, F3 Champion Don Parker and many others.
During that time the ingenious Belfast-built McCandless car, built by the legendary Rex McCandless and the only 500cc car to feature four wheel drive, held the outright lap record for the circuit for a while. It, along with a lot of other historic machinery, is now to be found in the Ulster Folk & transport museum at Cultra.
500cc McCandless. Picture by Richard Young. In 2015 some 19 '500s' came to visit and put on two close-fought races as part of the UK Historic F3 Championship. A return visit is on the cards within the next couple of years.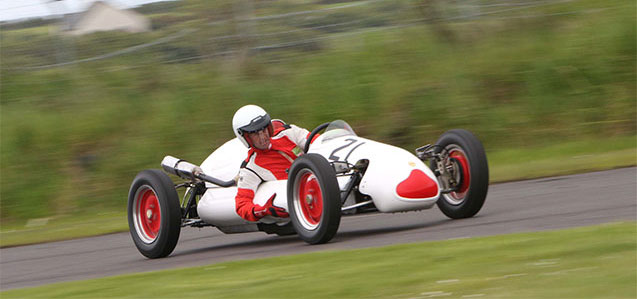 Andrew Turner in his Cooper Mk 6 hangs on at Fishermans. He was one of the stars when the historic F3 class visited in 2015. Picture by Ian Lynas.
However, many racing classes have flourished at the circuit since those early days, including Saloons, Sports Cars, Roadgoing Sports Cars, Formula Vee, Formula Ford 2000, Opel Lotus, NI Sevens, Legends and, of course, the ever popular Formula Ford 1600.
This class has become synonymous with Kirkistown. Introduced in 1967, the first championship took place in 1968 and there has been a FF1600 championship every year since. The Irish FF1600 drivers are recognised as being at the very top of the tree, no matter where they go.
At the end of the season there is the Martin Donnelly Trophy meeting for FF1600. This is one of the three big National meetings for this class, the other two being the Formula Ford Festival at Brands Hatch and the Walter Hayes Trophy at Silverstone. In 2016, Irishman, Niall Murray, became the first driver to win all three in the same year. He also won the BRSCC British National Formula Ford 1600 Championship.
Tin tops are well catered for with the Kirkistown Fiesta Zetec Championship and the Kirkistown Saloons.
The Fiesta class is a budget class, aimed at those taking their first steps onto the motor sport ladder, although there are a few seasoned campaigners within the ranks. There are fairly large fields and the racing is usually very close.
The picture, by Ian Lynas, shows 2016 Champion, Johnny Forsythe (42) side by side with Ben McCully (97), in the Kirkistown Fiesta Zytec Championship. Door mirrors tend not to last in Fiesta racing!
For more highly modified saloons there's 'Saloon Libre', which means that there are only the most basic regulations, mostly to do with safety and original construction. Thus, there is a mix of makes and models including Hondas, Seats and BMWs. The picture, by Ian Lynas, shows Ralph Jess (59) leading Donal O'Neill (33) through the Colonial complex.
On the Sports Car menu are Roadsports and NI Sevens, who usually run together. The Roadsports tend to be closed wheel models such as Crosslé 47S models or Radicals and the NI Sevens tend towards Lotus Seven derivatives from Westfield, Locost, GMS and such like. Jim Larkham (20) in his Radical PRO6 leading Paul Conn (80) in his Crosslé 47S. Pic by Ian Lynas.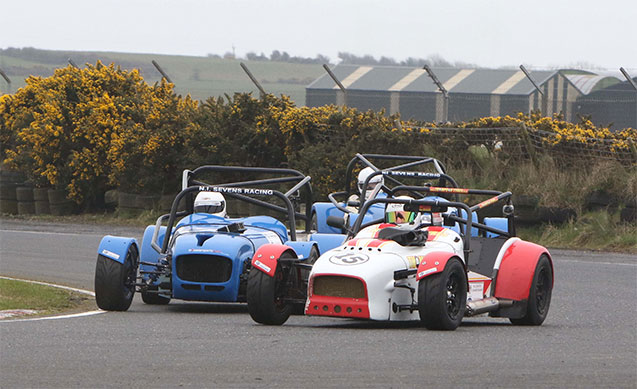 In this picture by Ian Lynas, Paul Thompson (15) takes the outside line at Maguire's Hairpin in his Stryker Honda.
Paula Moore has a 'Hairpin moment' on her way to a Formula Vee victory. Vee drivers regularly try to occupy the same piece of track! Pic by Ian Lynas.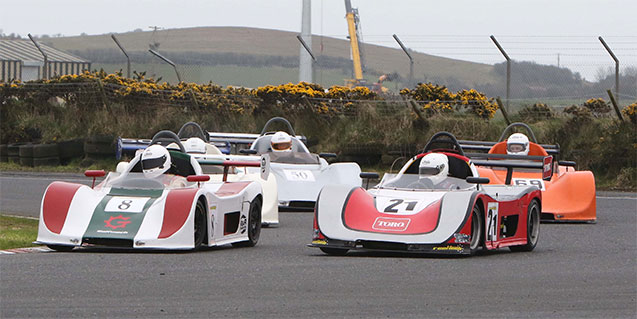 We are regularly joined by visiting classes from Southern Ireland. These include Formula Vee, who always put on a great show, Formula Sheane who, for a long time were the fastest single seater class in Ireland, BOSS Ireland who now have that distinction, ASK Supercars, The Seat Leon Supercup, Global Lights and the always entertaining Ginetta Juniors, for drivers aged between 14 and 17 years. Global Lights always have close racing. Max Drennan leads Alan Mackey at the Hairpin. Pic by Ian Lynas.
The Ginetta Juniors have always been welcome guests when they visit Kirkistown. William Harron leads Darragh Denning at the Hairpin. Pic by Ian Lynas.
Picture by Ian Lynas; Historic FF2000 machinery in action. Fraser Collins (Lola T580) leads Ian Rowley (Penfold 001).
We have also had visiting classes from Britain, including Historic Formula Ford 2000. At one time during the 1980s, this was the major class at Kirkistown. These cars can lap around the 60 seconds mark and a full grid is a wonderful sight.
Many local drivers currently active at the highest levels of motorsport raced earlier in their careers at Kirkistown. These include Colin Turkington (BTCC with Subaru), Adam Carroll (Formula E with Jaguar) and Steven Kane (International GT with Bentley).
Of course, many ex-Formula One drivers also cut their racing teeth on our track. These include local men Eddie Irvine, John Watson, Martin Donnelly, Damien Magee and Kenny Acheson; Dubliners Derek Daly, Bernard Devaney, David Kennedy, Michael Roe and a certain Eddie Jordan also appeared regularly at Kirkistown during their formative years.