1953

Five Hundred Motor Racing Club of Ireland leased the land so that the members would have a permanent circuit on which to race their cars.

1956

Austin Healeys and Triumph TR2s race at Kirkistown and an old double decker bus was used for race control.

1957

Ivor Bueb who won the 500cc Championship of Ireland at Kirkistown.

1967

Introduction of Formula Ford 1600 class which has become synonymous with Kirkistown. 

1968

The first FF1600 championship took place and there has been a FF1600 championship every year since.

1980s

We have also had visiting classes from Britain, including Historic Formula Ford 2000. At one time during the 1980s, this was the major class at Kirkistown.

2015

Some 19 '500s' came to visit and put on two close-fought races as part of the UK Historic F3 Championship.

2016

Irishman, Niall Murray, became the first driver to win all three FF1600 trophy meetings in the same year.
First invented in the USA during the late fifties, karting is a relatively young form of motorsport. Nonetheless, it has been part of the 500 Club's Kirkistown agenda for over forty years, during which time the karts, as well as the sport itself, has changed radically.
In the early days, karts were pretty basic devices, some with so-called 'industrial' engines but many powered by 197cc Villiers motors as found on many small British motorcycles of the day. Many of the chassis were distinctly home-built.
But over the years, karts, like their larger four-wheeled relatives, developed. Engines became more specialised, bodywork began to appear, and an increasing number of categories and classes arrived to broaden the appeal.
Chassis became more sophisticated, and today the kart industry is a massive global success story that has consigned the 'backyard specials' to the history books.
In the process, karting grew in two directions. At grassroots and Junior levels, so-called 'non-gearbox' machines with smaller engines catered for younger drivers hoping to progress through the ranks and ultimately graduate to cars.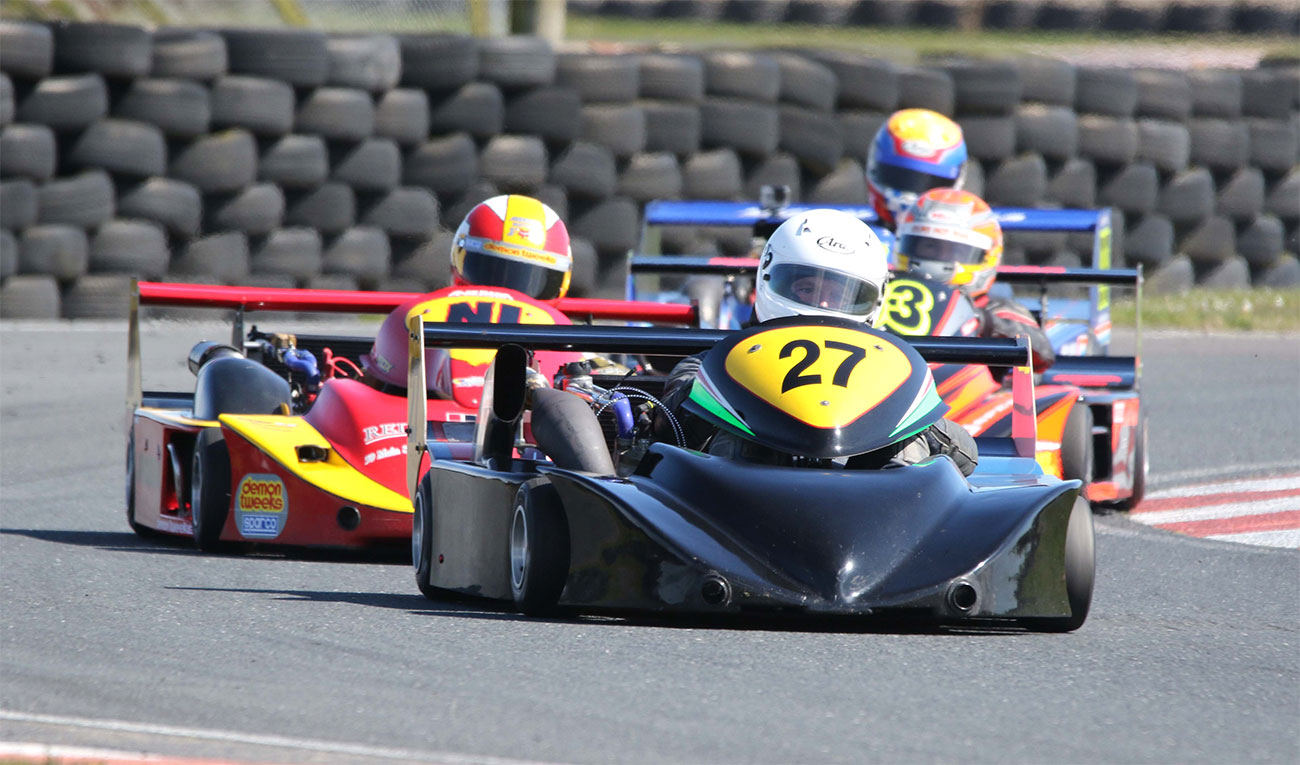 Photo by Ian Lynas shows Alan Witherow (27) leading Liam Fox (NI) through the Crosslé Chicane. Both are in 250cc machines.
At the other end of the spectrum, 'Superkarts' with 125cc and 250cc two-stroke power soon proved to be faster than all but the quickest formula cars, reaching speeds of up to 160mph and lapping Kirkistown's 1.5-mile full circuit in less than a minute.
Present-day Superkarts feature highly sophisticated bodywork and wings and boast power to weight ratio comparable to current Formula 1 cars!
They now run at car meetings to share the bill with Formula Fords, Road sports, and regular car classes. On two occasions last year, the fastest laps at car meetings were recorded by Superkart drivers.
The smaller non-gearbox karts, on the other hand, race at dedicated kart meetings on Kirkistown's shorter, twistier kart track which is better suited to their performance parameters.
Before the formation of the Kart Section of the 500 MRCI the County Down Kart Club promoted races at the circuit for gearbox karts only, as standalone meetings. This was in the middle 1970's. Also during that decade the extremely rapid motorcycle engine powered karts - not yet called Superkarts - were invited on occasions to participate at Kirkistown car meetings.
In the summer of 1981 the karting circuit suitable for non gearbox karts was constructed at the westerly end of the Kirkistown circuit and at that time the County Down Kart Club was amalgamated into the 500 Motor Racing Club of Ireland as its Karting Section.
Over a period of almost 40 years, lots of young kartists learnt their racing craft at Kirkistown, many going on to join the ranks of professional racing drivers.
Interestingly though, while Superkarters tended to stay with the category, most of the 'graduates' came from non-gearbox classes where the close-quarter wheel to wheel nature of the racing provided invaluable training for the cut and thrust of professional car racing later on.
Most, if not all, the current crop of Grand Prix drivers started their careers in Junior, non-gearbox, karting. It's a route pioneered by the likes of Ayrton Senna, Michael Schumacher and a great many others, and our own home grown talent has blossomed in the professional ranks as well.
Jonny Kane (Strakka Racing in the World Endurance Championship), Stephen Kane (Bentley M-Sport GT team), Wayne Boyd (United Autosports team in European Le Mans Series), Chris Meeke (Citroen in World Rally Championship), Colin Turkington (Team BMR in BTCC), Adam Carroll (Panasonic Jaguar Racing in Formula E) and Richard Lyons (Audi Team Hitotsuyama in Super GT Japan) all cut their racing teeth on non-gearbox karts, as did current Porsche Carrera Cup front runner Charlie Eastwood.
There are others too... And there will be more in the future.