The most prestigious trophy in the history of Irish Motor Racing is The Leinster Trophy.
Dating back to 1934 it has been awarded at car racing events including the Skerries Road Races (1934), Tallaght Road Races (1935-48), Wicklow Road races (1950-57) and Dunboyne Road Races (1958-65).  In 1967, it was awarded at Bishopscourt in County Down. Since 1968, when Mondello Park Racing Circuit in County Kildare opened, it has been awarded there every year up to and including 2020.
It has always been within the gift of the Leinster Motor Club to decide what particular race, in any given year, would be the recipient of the Leinster Trophy.  From 1981 to 1986 it was awarded at a round of the European Formula Ford 2000 Championships.  From 1987 to 1999 it was awarded at a round of the Formula Opel European or British championships.
The names of the winners make impressive reading.  They include F1 World Champions Mike Hawthorn, Ayrton Senna and Mika Hakkinen.
Ayrton Senna with the Leinster Trophy.     Mika Hakkinen receiving the Leinster Trophy.
Others include Ulster's five-time Grand Prix winner, John Watson (twice!), F1 team owner Eddie Jordan, F1 Grand Prix regular, Maurício Gugelmin, Ex-Fi driver and founder of the RML Group, Ray Mallock, double Le Mans 24 Hours winner, J.J. Lehto and the man who Michael Schumacher named as one of the two drivers who inspired him most (the other was Ayrton Senna), Vincenzo Sospiri.
F1 Grand Prix winners Rubens Barrichello and Heinz Harald Frentzen, Le Mans 24 Hours winner, Alan McNish, Indianapolis 500 winner, Gil de Ferran and W.R.C. Champion, Carlos Sainz, all competed for but failed to win the trophy.
Names of legendary drivers on the Ulster scene are well represented including John Pollock, Jay Pollock, Patsy McGarrity, Brian Nelson, Tommy Reid and Trevor Templeton.
In 2020, the Leinster Trophy was awarded to the winner of the B.O.S.S. race on the day at Mondello.
B.O.S.S. stands for Big Open Single Seater.  These cars tend to be rocket ships! Some are from the world of Le Mans style sports cars and others are Formula 2 and Formula 3 cars.
The winner was Paul O'Connell, from Limerick, who won the B.O.S.S. Championship in 2019.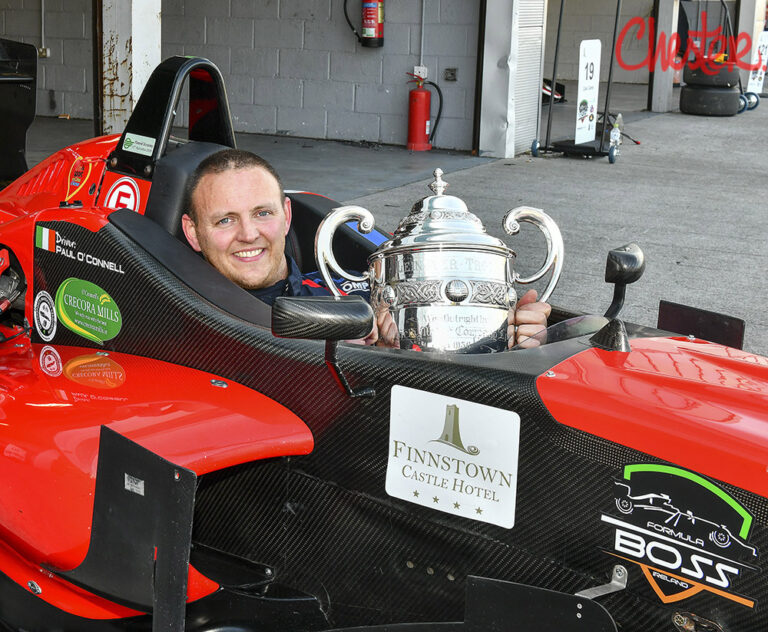 This year, the Leinster Trophy will once again be awarded to the winner of the fastest class in Irish motor racing.
However, the 500 Motor Racing Club of Ireland, in association with the Leinster Motor Club, will present the trophy at The Leinster Trophy Car Race meeting at Kirkistown Racing Circuit on Saturday 28th August!
The trophy will be awarded to the winner of the second B.O.S.S. race.
Previous winners:
1934 MISS F. TAYLOR
1935  J. TOOHEY
1936  J. TOOHEY
1937 D. McCRACKEN
1938 St. HORSFALL
1939 C.E.COBB
1948 W. LEEPER
1949 NOT RUN
1950 M.P.CAHILL
1951 J.MIKE HAWTHORNE
1952 J.D. TITTERINGTON
1953 F.D. SMYTH
1954 W.D. LACEY
1955 D.R. PYPER
1956 J.B. NAYLOR
1957 J.B. EMERSON
1958 J. WANSTICE-BROWN
1959 R.A. JAMESON
1960 G. ASHMORE
1961 T. HAYDEN
1962 R. OLTHOFF
1963 S. TAYLOR
1964 J. PIERCE
1965 C. SUMMERS
1966 JOHN WATSON
1967 D. FURLONG
1968 JOHN POLLOCK
1969 JOHN POLLOCK
1970 BRIAN NELSON
1971 JOHN WATSOM
1972 KEN FIELDS
1973 TOMMY REID
1974 PATSY McGARRITY
1975 JAY POLLOCK
1976 PATSY McGARRITY
1977 PATSY McGARRITY
1978 EDDIE JORDAN
1979 TREVOR TEMPLETON
1980 TREVOR TEMPLETON
1981 RAY MALLOCK
1982 AYRTON DA SILVA
1983 R. SPENCE
1984 M. GUUGGLEMAN
1985 B. FABI
1986 H. LARSEN
1987 J .J. LETHO
1988 M. HAKKINEN
1989 P DE CRISTOFARO
1990  V. SOSPRI
1991  JASON ELIOTT
1992  WYM ECKMANS
1993 DAVID L. WRIGHT
1994 VIVION DALY
1995 JASON WATT
1996 DEREK CUNNEELY
1997 MARCELLO BATISTUZZI
1998 ERIC VAN DER LINDE
1999 THOMAS SHECKTER
2000 PAUL DAGG
2001 JOHN O'HARA
2002 ROBBY COLEMAN
2003 EMMET QUEENAN
2004 SIMON WALKER-HANSELL
2005 NEVILLE SMYTH
2006 KRIS LOANE
2007 PETER DEMPSEY
2008 ROBERT BARRABLE
2009 GARY NEWSOME
2010 DANIEL POLLEY
2011 RAY MOORE
2012 KEVIN SHEANE
2013 BARRY RABBITT
2014 STEPHEN DALY
2015 STEPHEN DALY
2016 Hywel Lloyd
2017 Cian Carey
2018  Stephen Daly
2019  Barry Rabbitt
2020  Paul O'Connell