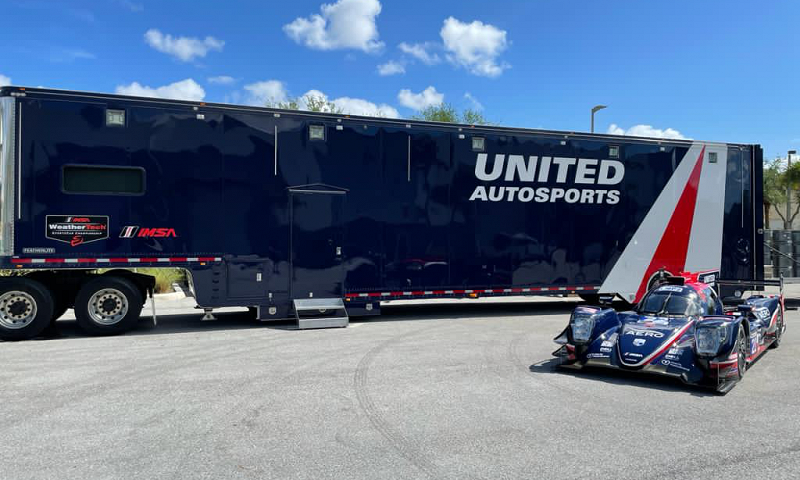 United Autosports USA to enter 12-hour race in Florida
Jim McGuire, Wayne Boyd and Guy Smith team up in Oreca 07
Return to IMSA WeatherTech SportsCar Championship for LMP2 team
United Autosports are preparing for round two of the IMSA WeatherTech SportsCar Championship at Sebring, Florida this weekend (19-20 March).
The Mobil 1 12 Hours of Sebring is the second race on the IMSA calendar, but the first of 2021 for United Autosports LMP2 team, who travelled to America last weekend for a week of preparation at their base in West Palm Beach, Florida.
Jim McGuire, Wayne Boyd and Guy Smith will team up in the #22 Oreca 07 for the first time, with Guy making his United Autosports debut. The race in Sebring also marks the first time Jim McGuire will race a United Autosports LMP2 car, having competed with the team in LMP3 for the last four seasons. Wayne Boyd raced for United's LMP2 team in 2018, but is better known for his LMP3 success, having won both the 2020 European Le Mans Series and the 2021 Asian Le Mans Series LMP3 championship titles.
This weekend marks a return to IMSA competition for United Autosports, having previously entered three rounds in 2018. The team finished fourth at the Rolex 24 at Daytona, fifth at the 12 Hours of Sebring and fourth at the 6 Hours of Watkins Glen.
Watch qualifying and the race live and uninterrupted on IMSA.TV.
Weekend Timetable Thursday 18th March 09:05-10:05 – Practice 1 13:55-14:25 – Practice 2 (Bronze only) 14:25-14:55 – Practice 2 (all drivers) 19:30-21:00 – Practice 3
Friday 19th March 12:30-12:45 – LMP2 Qualifying
Saturday 20th March 08:00-08:20 – Warm up 10:10-22:10 – Mobil 1 12 Hours of Sebring race
All times are local (UK -4hrs).
"I'm really excited for Sebring. It's a race I've always watched and I'm delighted to now be able to take part in. I'm looking forward to being back in the LMP2 and in particular a United car, with all the success they had last year we have no excuse not to come away with a good result. I've raced at Sebring a couple of times and it's a circuit I enjoy, very different to any circuit we race at in Europe. I'm also, really happy to be sharing the car with Jim and Guy. Both great drivers and personalities so it should be a fun week."