Following a podium at Spa, the team at Borusan Otomotiv were hoping to continue their good form at Misano.
In qualifying, Tom provided the starting position for race 1, achieving P19. Berkay qualified in P3 which would be the starting position for race 2.
Race 1
Out first, Tom knew he had the capability to move up the grid. He set about doing just that, taking two positions in the first lap, then staying right on the rear bumper of Meric's Aston Martin to pass him on the fourth lap.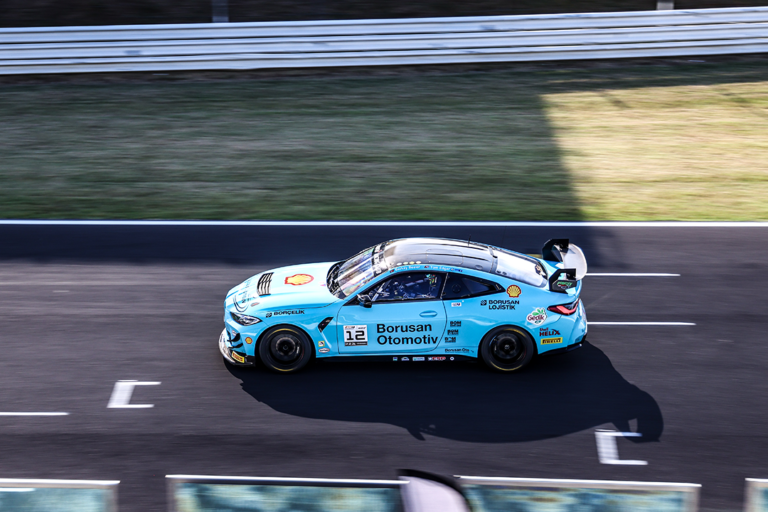 Two successive safety car deployments afforded him another position before the pit window opened and our boy handed the car over to Berkay.
As the pit window closed Berkay was already in P10, thanks to a good pitstop strategy and quick driving in a slightly clearer field. Some impressive driving and timely safety cars gave him P5 which was promoted to P4 post-race after penalties were handed out.
Race 2
Lining up in P3 to start, Berkay made an overtake immediately across the starting line, taking the lead at turn 3. The battle for second heating up behind him, he was able to pull ahead by almost two seconds. This gap was not to last however, as the Audi of Consani caught up on the next few laps.
Now defending hard, positions were traded with Consani several times, allowing the BMW of Piana to catch up and move from P3 to P1 in a single move. This 3 car fight for the lead would continue and just as the pit window opened, Berkay took back the lead before heading into the pits for the mandatory driver change.
Tom headed out on track in the lead, with the #2 BMW – now in the hands of Schrey – still hot on his tail. Defending well and contending with being forced to avoid a spinning car, he held the lead, now with additional pressure from Lariche in the Audi R8 back in the fight for 1st.
Lap after lap they both pushed hard, hoping to force an error from Tom, but he kept his cool (not easy in the Italian summer heat) and brought the car home in P1 to rapturous applause from the whole team.
Tom:
A fantastic weekend at Misano collecting my first European victory and moving back in to second in the championship. 


Race 1 was tough, we had great pace but it is so difficult to move forward when the cars ahead are defending as well as they were. Thankfully we did manage to move up and that pace got us really excited for what we would be able to do starting from P3.
I really enjoyed race 2, although I had no radio for the entire stint so I was driving around a bit lonely! I'm really happy with my performance, managing the pressure and keeping the mistakes to a minimum. I can't tell you how hot it gets in the car, its not at all like what I'm used to racing in the UK. But what better way to cool off than with champagne spray? 
The team and Berkay performed brilliantly and we managed the heat – and pressure – to have a great weekend. On to Hockenheim!